2 weeks have passed since the release of J-BusinessDirectory 5.0.0, and today, we are thrilled to present you with the release candidate of J-BusinessDirectory v5.0.1. In this version, we have improved all the features that were added to v5.0.0 and fix most of the bugs.

Let's take a tour and see the new features and improvements that have been implemented.
New Moderation Mechanism
Moderating business listings, offers and events can be very time consuming for the site administrator and we decided to introduce new functionality, Item Moderation, that will highly reduce the amount of work needed.
Now the site administrator has the possibility to enable/disable item moderation, can show pending approval items until they are moderated, or they can enable automated moderation.
If automated moderation is enabled, once the business owner has a number of items approved (for each item type: business listings, offers and events) that is equal with the Moderate Threshold, all the following items that will be created are automatically approved.
Business Projects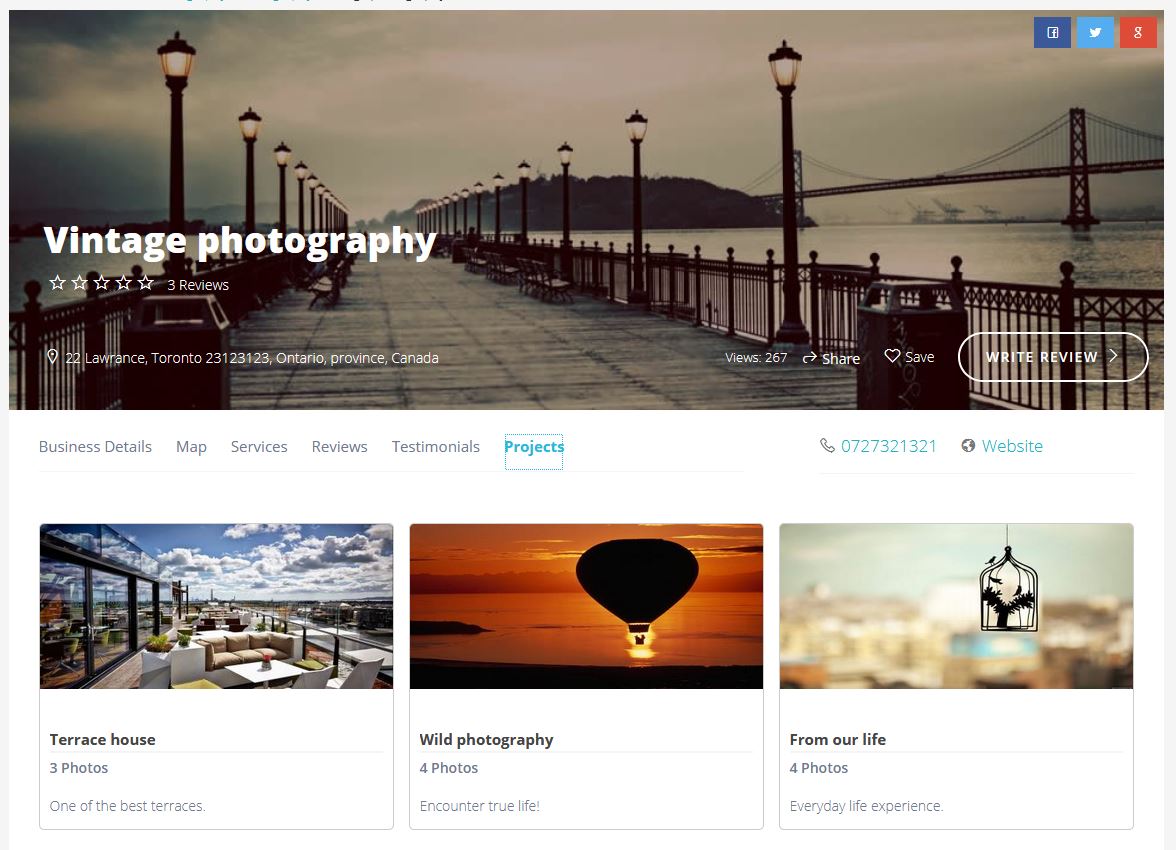 In order to improve the business marketing and exposure to the end users, we have added business projects.
Each business owner will be able to load his business projects in order to give an idea to the end users about their work.
For each project, the business owners can add a description and a photo gallery.
New Grid View for Events List view
With 5.0.1 version we have added another option to the events grid view. Until now it was possible to show only the calendar but we have added an extra option to show also the items in a grid view. The way the grid view is being shown can be set on directory general settings -> events tab.
The complete list of new features and improvements
Bellow, you can find the full list of new features and improvements that have been developed in the 5.0.0 version.


New features
New moderation mechanism
Add a thank you page after all payments
Add Enable link location mechanism for offers and events search modules
Add a new grid view for events list page
Add summary of service booking for JBD appointments
Add summary of tickets booked
Add order details summary for business listing
Add offer order purchase summary details
New business project feature
Improvements
Overall design improvements
Update user manual and online documentation
Review & improve the main processes
Apply the default currency to company services
Replace multi-select box with a new library
Add currency conversion mechanism for offer selling application
Do not allow a user to create 2 reviews for the same user
Add time zone for offers and events
Add offer attribute configuration on general settings for the price text field
Add listing attribute configuration on general settings for related businesses field
Make all headers <h1> for all item details pages
Add the email validation for all emails fields.
Remove upload all button for image upload since it is not needed
Add an option to show/hide list/grid options on search results pages
Replace special characters with _ for images and file upload
Bug fixes

Multiple design issue fixes
Services payment issues
Countries logo is removed on save


Thank You So Much!
We would also like to take this opportunity to thank everyone who helped us throughout our entire journey, from the beginning until now. It couldn't have been possible to move forward without your valued feedback, so we can't thank you enough!



How to update?
At the moment you can only update manually. Download the latest version by log in to your CMSJunkie account and selecting the My Downloadable Products menu item on the left.


Bug reporting
Since this is still a beta version, some bugs may have eluded our QA team but they will definitely not get past you.
We have created a dedicated section for reporting bugs
http://www.cmsjunkie.com/forum/jbd-beta-testing/?p=1



From our Joomla extensions category: Joomla Business Directory