After multiple months of development, we have released the new WP-BusinessDirectory v1.0.0 for WordPress. The plugin contains the same functionality as our J-BusinessDirectory extension for Joomla.
If you are not familiar with our business directory functionalities let's have a quick tour to discover the great features.



Search widget for business listings, offers and events

The search widgets allow you to search through the items of the directory. For each item type (listing, offers, event) there is a separate search widget.
Each search widget allows you to customize the fields that are shown in the search form.



Multiple list view styles

For the search results, you can choose one of the multiple views that we provided based on your needs.



Multiple detail page styles

You can choose the item details page layout from a wide range of layouts. You can also set the page layout based on the business type.




Payment plans

Packages represent one of the key features of the directory and allow you to define different levels of memberships with different availability based on package type. If packages are enabled on directory general settings, all features from the free package of type lifetime are associated with all business listings. The features from a paid package are associated with the business listing, on the front-end, only when the generated order is set to paid. You can set an order to paid on the Orders section in the admin area.



User control panel with different capabilities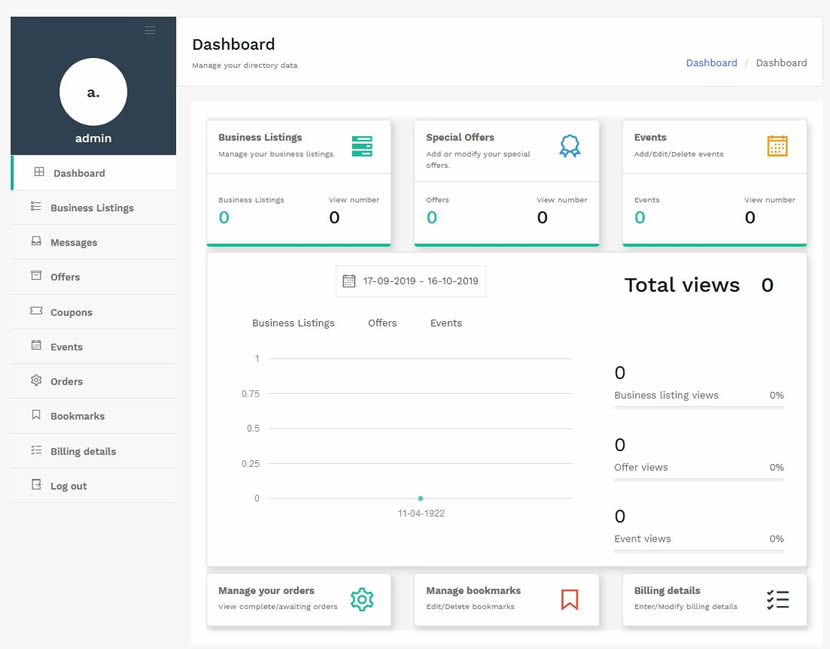 You can create multiple user groups and allow your user to have access to different sections of the directory plugin.


Admin dashboard




Directory Apps
You can enhance the directory functionality with multiple directory applications that can be found in our store.
We offer a wide range of directory apps, from payment processors to offers selling. You can find below a list of all directory apps.
Stripe
Stripe Subscription
Paypal Subscriptions
Recurring Events
sh404SEF
Appointments
Sell Offers
Event Appointments
Event Booking


Bug reporting
Some bugs may have eluded our QA team but they will definitely not get past you.
You can post the bugs on our dedicated section
https://www.cmsjunkie.com/forum/wp-businessdirectory-forum/



From our WordPress extensions category: WordPress Business Directory