Create the professional classifieds website you've always wanted within minutes. The clean display combined with sought classifieds features rank J-ClassifiedsManager among the top, or so our customers say.
J-ClassifiedsManager comes with lots of features including smart ad filtering, automated ad management, ad promotions, integrated payment options and lots more!
responsive
user friendly interface for customers
dynamic search filter
Google Maps integration
integrated search bar
ad management
categories on 3 levels
ad promoting
dynamic category attributes
integrated payment options: PayPal, Wire Transfer, Stripe
This extension is compatible with Joomla 3.x versions.
Feature Highlights
Anyone can do it! It's that SIMPLE!
You don't need to be a computer expert or internet whiz to have a great looking classifieds website. With Joomla and J-ClassifiedsManager, it's easy.
Just download J-ClassifiedsManager and activate in Joomla with a simple button click and you're ready.
J-ClassifiedsManager has been developed to include everything you need to setup search engine friendly classifieds websites for any market.
Whether you're using the classifieds software for an all-purpose classified or a specific category, our classifieds extension can handle it!
Easy installation & setup. The dummy data that comes with the extension will help you get started with your setup. Our template quickstarts will enable you to have your website ready within minutes.
Full responsive design
Using responsive design is crucial to actual requirements.
More and more people are navigating using smart devices phones, hence our classifieds software will help you increase traffic.
Responsive design and code mean that the changes layout for optimal viewing on any devices: computers, tablets & smartphones, easy reading, and navigation with no hassle.
Powerful classifieds Features
Take advantage of multiple configuration possibilities and features to take full control of your classifieds site and also to provide the best client experience. We include options for everything from the smallest detail to the biggest features. You're in charge!
Clean & Simple Administration We've gone a long way to creating a good user experience, from layout to design and architecture.
Multiple Configuration & Features Personalize your extension with the help of multiple configuration options that will make your site look the way you want it! We provide multiple settings in general application settings to allow full control of functionality and display.
Single Details Page Every detail a classifieds item would need is located on one page. Location, services, availability, contact info, web and social links, pictures, tags and more.
Google map Finding/Setting a classified location hasn't been easier. You have the possibility to define the exact location by clicking on the map or by entering the latitude & longitude.
User Generated Ratings and Reviews Give clients a reason to come back to your site again and again and again with user reviews. Stays are rated based on multiple criteria, which you can define.
Powerful Reporting The available reports are built to give a better insight into how your classifieds perform. Adjust rates, create offers, offer discounts, it's all up to you.
Social networks integration Social networks are an import aspect of marketing that you cannot ignore. We allow the integration with Facebook, Twitter & Google+
Skinning We've integrated several skins in our module and extension. This allows you to change/modify the way your classifieds screen is displayed in an easy way. New skins are loaded automatically.
No Junk! 100% CLEAN Code Every purchase includes 100% source code so you can customize and modify your classifieds software the way you like.
Build in Multilingual Support
All texts are translated into multiple languages. You just need to add the content in your language and you're ready to go.
You can enable any language you want, our extension is flexible enough to fit your specific needs.
Multilingual content is available for you to define.
Multilingual emails are available for you to define.
Currently, we support the following languages: English, Spanish, French, German, Russian, Portuguese, Greek, Arabic, Turkish, Dutch, Polish, Italian. New languages are added often and they are available with new releases.
Customer control panel
We provide the possibility for clients to manage their own data.
Everyone gets a dashboard with J-ClassifiedsManager. The dashboard is a single page where clients have access to all their classifieds as well as update their contact info.
Manage classifieds add/edit/publish classifieds from one place in the control panel. History with all the created classifieds is available.
Renew/promote classifieds renew promote classifieds from the control panel.
Bookmarks review your bookmarked classifieds and manage existing bookmarks.
Profile update - update your user profile from the control panel with ease.
Customizable attributes
Create any type of input with the customizable attributes!
Use any type of input from the basic text input to radio, select and checkbox.
Assign attributes to any category to have displayed in the process of adding/editing an ad as well as to displaying inputted information.
Enable promotions - to attract users to post to your classifieds site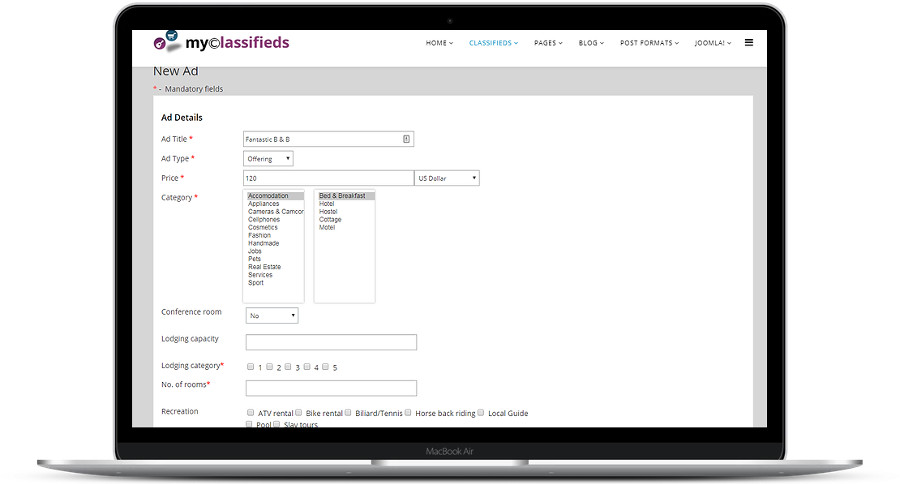 License & Support
Our extension comes with a 6 months support & update period. After the support & update period expires you can still use our product but you will no longer benefit our support & updates service.
In this period you can create tickets and forum posts that will be answered by our team in the shortest time possible.
After the support & update period expires you can still use our product but you will not benefit anymore of support & updates.
We recommend to stay up to date to take advantage of our frequent improvements that will bring value to your classifieds functionality.
SEO Friendly
We understand how important SEO is for your business. With that thought in mind, we've built friendly URLs, set all the necessary meta tags. All you need to worry about is running your business.
Each listing has it's own generated meta tag based on the listing title and content.
Customer Reviews
Joomla classifieds

Found exactly what I need for my joomla portal, it was a great addition for my visitors, that increased my traffic by over 50 percent.
It works outstanding with no issues at all.

classifieds for joomla

Perfect classifieds system for Joomla! It's truly complete professional and I recommend this Ad manager to everyone!

Roxy Olin

I was searching for professional classifieds for my website and here I'am. Work very well and very easily for Joomla.

The support from George is exceptional.

Joomla Ads Manager

I was looking for such classifieds extension for my website for a long time and now I'm very happy to purchase it.